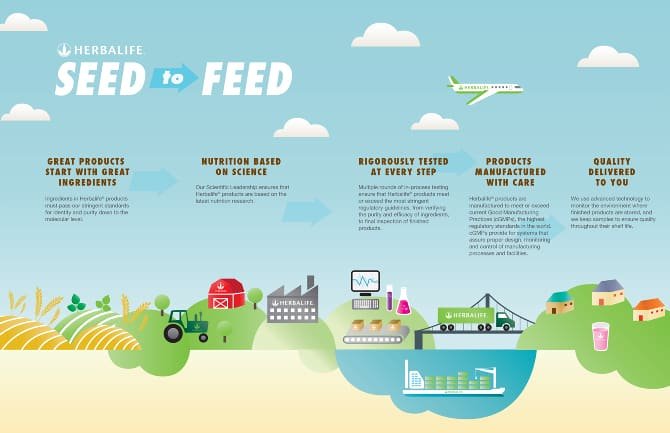 For more than 30 years, Herbalife has been a pioneer, leading a way of great nutrition beginning with Mark Hughes introduction of Herbalife Formula 1 Nutritional Shake way back in 1980 and continuing to lead by adding great new science based products.
Today, Herbalife going to give you more confident than ever and going to give you the answers to these important questions every consumer want to know. Are the ingredients in the products good for me? Are these science proven products? Are all the ingredients listed in this label really in this package? And finally, do you know where these ingredients came from?
Is all about confidence and trust and we will show you can be confidence on the quality, safety and efficacy of Herbalife products. It all comes down to a see defeat initiative. Herbalife invested millions of dollar in people, processes, facilities and technologies to guaranty the very best science and highest quality for our products and complete confidence in our manufacturing and supply chain.
Herbalife scientific leadership is made up of experts in the field of nutrition and health from around the world. Dr. David Heber, Chairman from Herbalife Nutrition Institute a world class scientist conducts research and helps guide the development of Herbalife products. Herbalife works with top talents in the nutrition industry that are responsible for helping ensure Herbalife products are indeed the best in the industry.
Many Herbalife products are classified as food products and other as supplements depending on local law for each market. Dr. Bill Frankos, Senior Vice President from Global Product Science, Safety and Compliance helps ensure that the products meet or exceed regulatory guideline around the world. Dr Franco is an expert in the industry. He worked in the US Food and Drug Administration (FDA) for 15 years and was responsible for developing and writing most of the guidelines affecting dietary supplements companies today.
Because of this standard, Herbalife can assure consumers that the ingredients listed on the label, really are in the product and nothing else. With Current Good Manufacturing Practices (CGMP), consumers can be confident that the products they are buying are safe for consumption.
Nearly 150 botanical ingredients are used in the Herbalife products. Because of Herbalife high quality standard, it can take up to a year and a half to screen potential ingredient suppliers, and provide suppliers with the ingredient specifications and test numerous samples before deciding whether to make the supplier part of Herbalife family. Once the reliable ingredient supplier is identified, in-process testing guaranty that every product always meet CGMP standards.
New Herbalife products also undergo months of stability testing before they are release to the market. One of the reason we do this is to determine the appropriate shelves life of the new products. During the stability testing, samples are kept in chambers that are calibrated to match 5 distinct climate zones that are also tested several times throughout the evaluation period to ensure the products meet label claims and remain safe for consumption.
After manufacturing, Hebalife also monitors the environment that finished products are exposed to while in-care in the company.
It all comes down to strategic sourcing and see it defeat initiative. This strategy is going to help make Herbalife stronger and more competitive than ever before. Herbalife is simply the best!